Big Hunting Creek February Outing Report 2014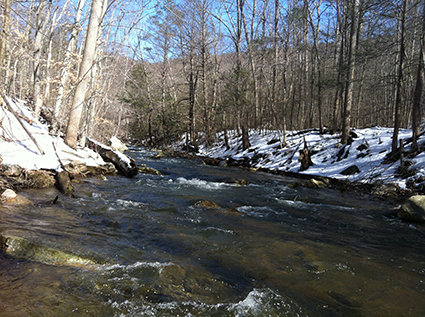 The River
Lunch
We had a great turnout for the Big Hunting Creek February outing this year; a group of six to eight fishers is usual, this year I counted fifteen at mid day. We Marylanders are very lucky in having a place as beautiful as Catoctin Park, and so close. Once there I always feel like I'm a lot farther removed from the Metro area than just the short ride of an hour.
For a February day temperatures we're pretty mild. The truck thermometer read 47 degrees at 10 am, and I would guess by 2 pm it was hovering somewhere close to 60. Water temperatures were reported to have been in the high 30's and with all the melting snow not getting any warmer. Flows were a bit high and slightly stained.
If there was anything to be disappointed in I would say it was a lack of bugs. I expected to see hordes of stoneflies crawling around the snow banks close to the stream, with midges in the air, but streamside I only saw two or three stones and maybe one midge. Bob O'Donnell said there were lots of stones on the section of stream where he was at, and credited his fish, a brown of about 13-14 inches to the sighting. Bob said he didn't have a little black stonefly imitation to try so he tied on a small dark wet fly that looked close and got his fish on the first cast.
Several Rainbows & Browns were landed, and the hot fly of the day turned out to be the Pink San Juan Worm. Gene Cyprich, Tim Bowers, Dave Simms & Frank Bowles, all took fish on it, Steve Fletcher scored with a Pumpkin head which is midge pupae imitation with orange head, and Lou Reichel and Art Friedlander both took fish but I don't know what on. If anyone else landed fish I'm unaware. The rest of us fished just as hard and for the most part I think using the same patterns but the gods failed to smile. Others may have had some near misses but I didn't get a bump, the only fish I interacted with was the one I spooked out of a pool and not even sure of that one, may have just been a shadow.
We had some visitors while cooking lunch; first the Maryland DNR came by to check our license, and then the National Park Police stopped by to give us some Parking instructions. The Maryland DNR told us that Rainbows were now successfully spawning in the creek as well as the Browns, and the MD DNR had ceased stocking. I thought they stocked 1000 Rainbows last year but maybe not. The officer did say a private club on occasion still stocked some Brookies, but the DNR wasn't really keen on it anymore, so, maybe that's something of the past as well.
I have some mixed emotions about the cessation of stocking fish in Big Hunting Creek. I really do like the idea of wild fish, but 20 years ago I think the fishing was much better in terms of fish numbers, just my 2 cents worth.
P.S.
Come on out to Bass Pro this Saturday March 1st and buy a couple dogs or brats at the PPTU dog stand at the Bass Pro exit, we'll be there till about 4 pm.
Dennis Covert
Outings
A comment on stocking by Charles Gelso
Regarding your comments in stocking in Hunting Creek, I have done a lot of digging on that, including speaking with DNR biologist, John Mullican, who is responsible for the central region streams in our state. John knows everything that is going on. He and others have clarified that the DNR has been stocking 1000 rainbows in BHC for a few years, and we no longer have brookies stocked there. However, last year, 500 of the rainbows earmarked for BHC were stocked in Catoctin Creek, our newest delayed harvest stream (actually two sections). How this division will be handled in the future is unclear.
I, too, think some rainbows should be stocked in BHC, and am glad it is continuing. However, remember that it was TU that put up such a fuss some years ago about this. It was TU who wanted no stocking in BHC so as to not disturb the wild brown trout population. We can't have it both ways, can we.
Charlie