January 17, 2016 Outing Report
Big Spring, Newville PA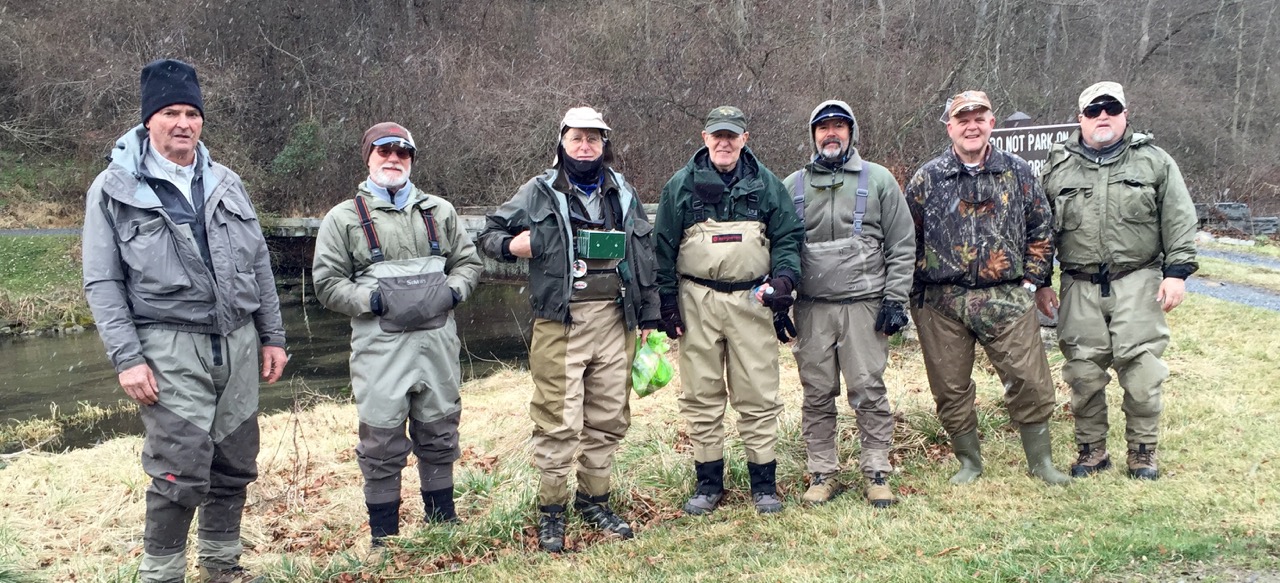 The Crew at Big Spring
Photo by Marc Hutzell
For what was forecasted to be a cold January day in the Cumberland valley we had a pretty good turnout for the first outing of the year. Eight of us in all; Reuben Johnson, Carl Smolka, Joe Robinson, Ken Bowyer, Art Friedlander, Lou Reichel, Marc Hutzell, and me.
In fact, for mid morning it was pretty pleasant. Usually this time of year after climbing out of a warm truck I'm in a rush to layer on some fleece and pull on my waders, but yesterday the whole area was overcast and shrouded in a dead calm instead of the biting wind I expected. And, at 35 degrees, it was already one degree above the forecasted high which would climb to 40+. Standing by the wall at the ditch parking area I scanned the surface and not a rise or midge ring could be seen clear to the bend. The sky so grey and water so calm the ditch had an eerie stillness. But once my eyes adjusted I could see fish cruising above the cress beds.
Meandering to the upper end in search of something to cast too I found several patches of brushed gravel shinning bright through the dark green mat. Cigar shapes slowly cruised over them or hung suspended above. Once I saw a fish dish the gravel and a few chases I took for spawning behavior, but looking at the ones closest to the bank I couldn't see any redds so maybe they are just starting?
The fishing was slow; I missed a couple itty bitty guys drifting a CDC midge, and had one very brief hook up on a pink San Juan. My Cress bug imitations didn't do me any good, but Art landed two on his a few parking lots down from where we were, the only fish to the net for the day I believe. Joe did a quick release on one he fooled with Walt's worm and Lou reported one hit on something I can't quite recall. And that was it. We saw plenty of fish in the lower sections below the ditch, that either ignored our flies or spooked on approach.
At a late lunch we mulled it all over while standing in a little snowstorm slurping bowls of hot bean soup and woofing hotdogs. Most the guys started packing it up, Lou and I hung around till about three and I saw one nice bow stalking the cress. I was tying on a streamer to see if he would chase but before I could get it tied he slid sideways and out of sight. I decided to slide south as well, as weak as the fishing was, it would have to be enough to calm the monkey.
The February outing is going to be on the tailwater below Brighton Dam. Once it's stocked I'll get a date out.
Dennis Covert
Outings